Friday, March 31, 2006

Post #1501

Home today taking care of one violently ill three year old, one slightly less ill and able spouse, one fast-moving toddler two weeks shy of her first birthday.

Somewhere in the invisible distance the workplace goes on without me. My students get taught something like and unlike what I would have taught them myself, inviting the eternal question of pedagogy vs. curriculum, a long-awaited nature/nurture parallel.

The child sleeps at my feet, curled around pillow in startling daylight. The wife sleeps restless upstairs with the baby, trying to keep her from illness. Outside, the cat stalks a hundred birds of spring.

It's like a weekend, except not at all.

Which is no suprise, really, because nothing is like anything anymore. Not my daughter's stomach. Not the Web 2.0 that I ask my 8th graders to consider in my absence, the new wisdom of the web so much like the old wisdom before it. Not the lawn, growing grasstufts here and there, where before a leechfield melted into the woods, loam and rock.

The world reforms, begins anew each day. Each blog post is another Spring, an essai, an attempt at worldcreation. Each garden bulb, each new green shoot is a mystery that will solve itself with or without the words to describe it.

Redundant, circular, we wander around Escherworld corners, never knowing where/when we might meet ourselves, never sure whether we should be afraid or hopeful in the face of such possibility.

Is the stomach growing queasy? Perhaps I am sick, or will be. Or maybe awakening always feels like this.

posted by boyhowdy | 8:49 AM | 1 comments

---


Tuesday, March 28, 2006

The Indescribable Life

The evening sky is full of stars
I think that red thing there is Mars
And in the distance, passing cars
Weave homeward from our local bars


Poem fragments flit through my brain. I look up vilanelle to see if the form is coming; lose myself in other people's words.

Form is my prompt. Writing is my therapy, my meditation. The blog is what has kept me sane for these fifteen hundred posts -- today's milestone, this one, right here, right now. To give it up would be to give up the long-held illusion that I am manageable.

To blog about it again would be banal.

It was a week exquisite, like every week before. My first experience with standardized no child left behind testing. A beaver sighting at the downstream dam. Trout fishermen and their children. My wife's full-day outing with my mother while my father and I watched the kids. Willow and I hand in hand in the late Northampton sunshine, all the way back to the toy store to return the doll she stole for her sister's birthday.

But the world did not end while I waited to blog it. Truly, a week unbloggable is only one mote off, a tenth of a degree different or less, too subtly something else for words.

Perhaps the world will keep spinning after all. Perhaps it is too late for any imitative semblance of forced order, any organizing principle to make a dent in what is somehow an undercurrent life.

Perhaps the life unexamined is equally worth. Perhaps it is the life lived, instead.

How fitting to have hit my fifteen hundredth post today, and be once again writing as if it were the end of the public life lived. How curious to be alive at all, really. The world turns, blogged or un-, and having been written, moves on.

posted by boyhowdy | 8:51 PM | 2 comments

---


Wednesday, March 22, 2006

Blogless By Choice, & Not Permanently




Life is sad
Life is a bust,
All you can do is
Do what you must.
You do what you must
And you do it well.
I do it for you honey baby
Can't you tell?



I've partnered with all ten seventh grade science classes for three day research and project jam sessions. Contracted to take in tech-assisted students for next week's statewide testing. Committed every lunchtime for full-blown panic-level yearbook development just 13 days to a final deadline with not a single finished page in sight.

Meanwhile, I've still got three classes a day to teach, technology to frame for the upcoming budget thaw free-for-all, progress towards a waived certification to document.

Life comes to a crisis point. I come home drained. This afternoon -- after five classes, a lunch meeting, and an hour of crunch-time yearbook advisorship after school -- I drove home in a fog, hugged my kids, swigged a glass of cold coffee, and promptly crashed out on the bed until supper.

I want to do more.

I went into this because I thought it fed the soul to be the know-it-all, the eye of the storm, the conductor of lives and knowledge. But I go back every day to bellows the spark in each and every one of them.

Because the rest is all paint, really. It is that glow -- the student, not the teacher -- which is the true sheer joy and awe of the teaching profession.

To do it right takes precision. And precision takes it all, right now.

I could do it half-assed, but that's not me. So instead, I'm officially taking the week off from blogging.

I know -- a week is a long time, and it's hard to get back on the horse. But need is need; every wanderer hits a long patch, steep in the dark once in a while.

If you miss me in the midst of radio silence, listen to these two covers of the song that's been stuck in my head for days, and know that this, too, shall pass.


Buckets of Rain (David Gray)


Buckets of Rain (Neko Case)


Ah, Dylan. Can't stand the voice, but the truth shall set you free.

Respective thanks to mp3bloggers Heather and Kevin for the tunes. I'd have posted versions by Jeffrey Foucault and Vic Chestnut, too, but I really have to move on about now.

Happy Spring, everybloggy. May the sun warm us all, and bring us peace in the whirlwind. posted by boyhowdy | 9:10 PM | 3 comments

---


Sunday, March 19, 2006

Observable Behavior Not Worth Observing

Contest! One of the twelve personal quirks listed here is a lie! Be the first to correctly identify which of the below quirks belongs to my old college roommate, and I'll give you my firstborn child promote the blog of your choice in a big ol' one-paragraph entry.


Everybody's got a set of smallscale quirks, the flotsam filler among the personality. Most go unnoticed, drowned out in the minutia of the daily ritual, obscured by the massively obvious facial tic, the distracting roman nose.

Today, I bring them to the surface.

What follows is a list of facts-about-me so trivial that, until this moment, they have gone utterly unnoticed by even my nearest and dearest. Because that's what blogging is all about, isn't it?


TMI: About Boyhowdy



I always take my socks off last.


I avoid soup spoons and tablespoons because I much prefer the feel of teaspoons in my mouth.


I bite my nails sporadically, always starting with the pinkie and thumb and working inwards.


I hold my pencil between middle and ring fingers.


I type with five fingers: index and middle on each hand, right thumb on the space bar.


I carry a lighter in my pocket every day.


I read my fortune cookies without opening the celophane.


I only shave once a week.


I'll eat anything except black licorice and cooked salmon.


I can spell anything if I can write it down.


I match my boxer shorts to my outfit.


I wear a belt because I like how it feels.


Now you know more about me than my wife does. Weird, isn't it? posted by boyhowdy | 10:38 PM | 13 comments

---


Friday, March 17, 2006

Randomalia: Dear Diary



[Insert midget prostitute joke here.]

I know most people don't care for "look at how cute my kids are" daddyblogging pablum, but Last night's bedtime request was too priceless to withhold:


Can you read this book for me, Daddy?
Which book, kid?
It says Horton...Hears....The...Whore!
Man, I haven't laughed that hard in years.



---
In more mundane news: spent the evening in Northampton, just because it was time to get the hell out of dodge.

The bulb show at the Smith College Botanic Gardens was small but stellar, but the permanent collection is always a treasure trove: found our first real Cassia plant, stalked the kids in the jungle room, sniffed sweet honeys and dark moss musk, and generally justified the trip.

Sushi afterwards in the scruptious Osaka, where an accident of fate seated us in one of only two recessed pillow cubicles, authentic and blond with hardwood as we feasted on the freshest, most buttery sushi in a hundred miles. I've developed a real taste for sea urchin; Cassia likes edamame, salty and green: if you ever go, make sure you start with the seaweed salad.

I love coming home from long drives at night, sharing comfortable silences with my wife while the kids doze in the back. Soft sounds on the radio and the pinpoint lights of passing cars and distant mainstreet intersections are my meditation. Seven highlights of tonight's mellowdrive, because Bozette asked:


Ryan Adams' Wonderwall is the best late-night driving song ever.

Richard Shindell's So Says the Whipporwill is a close second.

The Waifs do Sweetness. Sweet.

Sufjan, o sufjan. A live two-fer, yet: For The Widows in Paradise and the exquisite LEXP Chicago

Shawn Colvin covers Satin Sheets.

Cindy Lauper reinterprets True Colors on 2005 release The Body Acoustic. You've come a long way, baby.

You've heard Donald Byrd's Cantaloupe Island, you just don't know what it's called.

Also: in the past few days several students have found me, both here and in IM. I'd ask anyone here from my real life to keep in mind that, like your myspace page, my blog is primarily a reflection of my inner life, not my professional life. Please respect this to the extent you are able, and consider all opinions to be my personal, not my professional thoughts. Oh, and congrats on finding me. Not everyone does. posted by boyhowdy | 9:45 PM | 3 comments

---

Wednesday, March 15, 2006

iFull

What do bloggers blog when they have nothing to blog? They hit shuffle on their iPod and apologize for what comes up, a la Random Rules feature over at The AV Club.
Phish -- Round Room. Not the best of Phish, and not the best album; I always thought they went downhill after Rift. But decent radio pablum, noodling from the kings of the noodles.


Patty Griffin -- Every Little Bit. Now that's more like it, though to be fair, it's hard to find a Patty Griffin song off her debut album that isn't both gorgeously raw and pitchperfect. Wistful and anrgy in turns, this one'd make a great introduction to someone who really needed to fall in love with a new musician right now, this minute, today.


Victor Jory -- Tubby The Tuba (side 4). I feel asleep to this LP when I was a wee tot. Went and downloaded off the blogweb over a year ago to play for the kid, but she prefers Guster. Embarassing to have it show up so quick here. Still, useful for those long family drives, I suppose.


Hodges Brothers & the Hi Rhythm Section - Best in Town. Blues of some sort. Oh, right -- this is from the Oxford American Southern Sampler 2000 - my father had a bunch of duplicates of this yearly litmag sampler, and I bumped 'em all in. Not bad. They have good taste.


String Quartet Tribute to the Killers -- Jenny Was a Friend of Mine. Okay, I collect covers. It's like an addiction. And I've just discovered the Killers, and they rock. And this way I can listen to them at supper, and no one knows it's not background music.


Shawn Colvin -- Another Long One. Pre-pop from the award-winning debut of yet another soundtrack goddess. Okay, this got me into a love of produced folk music, and through an entire post-adolescent summer of despair, and I'm eternally grateful for it.


Kathleen Edwards -- Nagasaki. AAA radio darling singer-songwriter goes all ani on this one. It works, kind of, and the strings are nice, but ani does it better, and Kathleen's voice sounds more like she's trying to be suzanne vega, but not as sweetly. I don't know why she bothers -- she does a simply stunning Kathleen on the rest of her catalog.


David Gray -- December. Ah, I love a slow beat and a soaring tenor voice. December is a bit slow, and for Gray, that's saying something. Not as emo as some of his other work, though, so perhaps we'll say this one splits the difference.


R.E.M. -- Can't Get There From Here. A blast from the past. Funny how well the old R.E.M. ages. Like fine cheese. Even if I never did quite take a liking to the Stipe whine.


Alison Krauss -- Looking In To The Eyes Of Love. Oh, that sweet vibrato. I remember seeing Alison Krauss fiddlin' and singin' at a bluegrass festival when we were both seventeen. I'm still in love, still far away.


Jon Brion -- Time Of The Season. California Indie piano darling (a new genre which includes Ben Folds and...um...some other male solo vocalists) covers the Zombies. A lo-fi recording, with an audience sing-along, from his weekly stint at Largo. Fun, but nothing stellar, musically speaking.


More covers, ad infinitum. Acoustic Radiohead mangling the first half of Wonderwall. Peter Mulvey live in the subway, covering For No One. Eric Clapton covering Jimi Hendrix. Keane does Goodbye Yellow Brick Road, also on solo piano, also in live lo-fi. Ah, the wonders of the downloading internet.


Okay, I give up. Granted, some of this stuff might impress the right kind of girl, but this isn't my diverse mp3 collection. What's with all the neo-singer-songwriter stuff tonight? Where's all the rock, the mash-ups, the ska, the punk covers?

Look, I got 6300 songs on the damn thing. They can't all be winners. posted by boyhowdy | 10:34 PM | 1 comments

---

Tuesday, March 14, 2006

Meet The Day People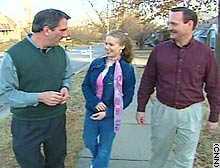 We hate them because they are chipper.
And not at all pasty.


I get under five hours of sleep every night, drink 40 ounces of coffee between bed and classroom, have another 20 ounces before lunch. By Wednesday afternoons I can feel the burn, the eyelid droop, the slow leak of conscious thought. By Fridays I'm on sugar and fumes.

Give me a summer off and I sleep away the heat of the day, drift quickly into a fully nocturnal schedule.

I have powerful memories of a household awake until three in the morning, my father, my siblings and myself skulking around in nightreverie.

But it's not a personal failing to adapt to the inevitable daylight hours of the public school teacher. Instead, I'm happy to report that the tendency towards the nocturnal is genetic and dominant...and, by implication, totally excusable.

Yes, welcome to the modern world of chemicality, where no one need own their behavior. See the far-too-chipper dad and his daughter in the pic above? They have Advanced Sleep Phase Syndrome, or ASPS, a genetic condition where the body clocks are moved forward -- in their case by about three hours. They fall asleep at 7:30 every night, wake up refreshed at 3:30 or so, and piss the rest of us off to no end.

Because we have the reverse of that, don't we.

Of course, the symptomatic familial result would run inverse from one case to the other. Where Bethany and Clay -- a pair of daytime names if I ever heard 'em -- cite their mornings together as a lifetime of bonding, there's nowhere to go in suburbia afterhours, no shining faces to greet in the dark hallways at the end of a long day.

Hence the slightly furtive existence of my adolescence, knowing that my family was awake in their own spaces, avoiding them into the night.

You might say the differences between our case and theirs is like night and day.

posted by boyhowdy | 9:49 PM | 1 comments

---

Monday, March 13, 2006

The Virtual Life 2.0
Mashups: Tracking Packages, Tracking Life




Toilet locations on the London Underground.


Thinking about last week's google maps for educators blog while a guy on the radio explores the new dynamic model for mashups (old: mixing content; new: mixing tools and data to create dynamic content) gets the brain going despite slight illness.

Radio guy's example -- mapping craigslist apartments against Google Maps -- leads to an evening drifting through other examples, from Mashup Camp 2006 crowd fave Podbop (choose a city, learn what bands are playing in town that day) to the vast volume of 1.0 mashups on YouTube (video) and HypeMachine (music).


Family Watchdog lets you map homes and photos of sex offenders. Even Warner Music has gotten into the act, releasing new Fort Minor single audio elements for remix in a desperate grab for popularity and sales.

Which, in turn, leads to a daydream about mashups I wish existed.

You know, like Groundhog Day mashed with the Matrix. A combination of google maps with the current location of all my old girlfriends (with disease vector models to follow, once the demand for realpartners among teenagers transcends MySpace). Mixing virtual blueprints with RFID tags on all your stuff, so you really can have that googlehouse you always wanted.


Turns out much of this can been done, if you're willing to put in the time. Introducing Platial, a social atlas space/tool which helps you build and share "location-based" stories and information online. I found it looking for some examples of mashups to contextualize my own list; currently, it includes gems from the historical (women who changed the world) to the subjective (weird things that happened to me). No surprise: it's via lifehacker, recommended in his own right, and not just for his google maps taglist.

Of course, you do have to know the information you want to plot. Guess the Ex-Girlfriend mapping tool will have to wait.

In the meantime, there's always isolatr, the new antisocial networking tool for those who have had quite enough of the socialweb.


---


: map mashup clearinghouse GoogleMapsMania; wry popcult metanoise at panopticist.


Listening to: Petra Haden, God Only Knows.
posted by boyhowdy | 7:26 PM | 0 comments

---

Sunday, March 12, 2006

In the Company of Company
On Becoming Grown-ups, Socially Speaking

We've never been the social type, though I can certainly hold my own as host or jester.

We've been in Monson six months, and we're pretty much unknown here. We go to church, and find friendly faces, but the congregation is too small for us to find families compatible with ours.

The neighbors have no kids, and seem older, established; though old friends and ex-coworkers Seth and Lynn and their daughter Arwen came down for a supper and playdate a few months ago, the old school is too far for us to really sustain those connections.

So last week, when Darcie asked to invite Michelle and her family over for a get-acquainted supper, it was a pretty big step.

Darcie had met her through the neighborhood preschool pals group, so we knew the kids were compatible. I'd never met any of them, but Steve's a school principal, which would give us plenty to talk about.

Still, I think we exceeded our expectations. Their kids are six and four, but Willow held her own, leading them in mysterious play just around the corner, topped off with a full-tilt parade of drum and fife that drowned out all adult conversation. In turn, Cassia impressed us all by choosing tonight to really walk, with confidence, across the playroom and back again.

Everyone connected, I think. We had plenty to chat about as we got to know each other, and our families.

Now, after a whirlwind three hours, our house seems especially quiet.

Back in the boarding school world, the companionship of other families was part of the fabric of life. From classroom hallway passage to dining hall suppers, the line between family and community blurred comfortably throughout the school year, almost to a fault. Our kids played together; we sat with whomever we found at the table in the dining hall.

Communal playgrounds and laundry rooms, and a shared sense of daily purpose kept us close acquaintences. It was more work to find a bit of private time than a drinking partner after hours; that we all tended to hide out in our own homes on long kid-bereft weekends says what it should. But overall, the commune life was more sweet than sour.

When it all crashed down in the cutbacks, I remember being sadder about my daughter's pending loss than my own. That shared playspace between houses was something special, and I doubt we'll even find anything like it.

So it was especially wonderful to see her playing so nicely, so gently, so gleefully with Liam and Lily tonight.

Of course, it was equally nice to feel like normal adults for an evening: drinks in the living room, small talk over supper, all the while keeping an ear out for the kids. Had much in common with Michelle, plenty to share with Steve, and the coparenting seemed natural.

Looking forward to another go-round, though not too soon. After all, we came to the woods on purpose: I wouldn't want to lose that family bond, nor the quiet togetherness that made us whole in the first place, and regenerates us every day.

I miss the boarding community, in part because of how easily it felt like one big happy, hard to escape, always there. But after seven years of it and six months distance, I guess I'm growing to see the benefit of choosing one's own. How funny to be so late in life, and only now begin the work of finding friendships.

We'll have Steve and Michelle back again, for sure, and make it to their house when their kitchen renovation is complete. In the meanwhile, there's room for more, enough to make a backyard barbecue one day, once the yard grows in from the leechfield reseeding. Let the interviews begin.

posted by boyhowdy | 8:06 PM | 0 comments

---

Friday, March 10, 2006

Wandering Jew, Hungry Jew




Just like mother used to slice.


My devoted Unitarian spouse has mastered the art of Challah baking on her second at bat, producing for this evening's shabbos a perfectly braided, moist bread to rival the best the Boston suburbs could offer me way back in my Jewdolescence.

Sunday morning our UU meeting house holds their annual Purim service, where, according to the email, kids and grownups are encouraged to come dressed as your favorite hero or villan.

Not bad for a Jew in the sticks, sans synagogue. Even if any traditional Jewcred heretofore acculumulated was erased this evening when, in a fit of snacking, I consumed a pork-pate-and-challah sandwich. With milk.

What can I say? Being true to thyself isn't about diet or deed in our house. We light candles, sing the blessings, pass the wine from lip to tiny lip, but I think I speak for all of us when I say that though we cherish and celebrate the world both real and spiritual, we mostly keep our gods in our hearts, and shine without.

It's a strange kind of Judaism, but it isn't absent. It rests upon a solid and daily base of worldawareness otherwise unnamed. It is a focusing lens, a brightening agent; it brings the world out like a polish.

Plus, we were out of sesame bagels. And you just can't get good chopped liver this side of Massachusetts.

posted by boyhowdy | 8:06 PM | 1 comments

---

Thursday, March 09, 2006

Where The Daddybloggers Are
Music for Audiophiles With Children




Soundsharing: It's a daddy/daughter thing...


New mp3blog smallages makes a big splash posting kidfriendly and occasionally even kid-targeted music from all genres. Because no one should have to listen to the Wiggles. Ever.

Smallages gets kudos both for its own wonderful selections and for directing me to the surprisingly geolocal Spare the Rock, Spoil the Child, a primarily once-a-week which posts mp3s of the 8-10 Saturday morning radioprogram of a daddy/daughter team.

In turn, Spare the Rock tips the hat to YES All Ages Radio, yet another daddy-and-child podcast-slash-Saturday-morning radioshow. What is it about Saturday mornings and kidsongs?

The wonderful coincidence is that both Spare the Rock and YES originate within easy driving distance of the geoself. In fact, Spare the Rock broadcasts on Valley Free Radio, a tiny co-op community station which turns out to be in myvalley, and which comes in not-so-scratchy on the car radio.

And the station is looking for show proposals.

I love it when the Internet leads me home.

posted by boyhowdy | 8:47 PM | 2 comments

---

Wednesday, March 08, 2006

Forward, March!

A march is a sort of forced forward progress, and sure enough, the weeks between public school vacations have us heads-down.

Teachers share forced smiles as we pass in the hallways between blocks. Students forget their work, get surly when we speak sternly to them, lose their focus when we don't: I play odd covers of their favorite songs in a desperate attempt to lighten the mood; sign their hallpasses OKUP, and wait to see which ones will get the joke. Little works for long.

I've given over my planning periods to a dozen instructional sessions with a rotating crowd of seventh graders -- math classes who generate charts from Olympic medal data; Language Arts classes interested in learning how the rules and environments for formal writing mandate format and praxis in Microsoft Word. As with all such partnerships the coteaching is more work, both in developing curriculum for others and in teaching students whose names and tics I cannot know. I tire from duplicate delivery, lose track of which audience has heard which dumb joke.

More ominously, a familiar tingle has begun to spread from waist to calf as I shift my weight from right to left. The back spasms alarmingly after a long day on my feet. An archival search for herniated in the blog calls up a serious walk down memory lane, but no sign of my biggest fear: that herniation means no child-carrying; that I might miss the last few months of Cassia's carry-on days.

Still, there are signs of spring-to-come.

Yesterday I arrived home to find my daughter and her grandmother playing happily in the woods, lightcoated and hardly cold. Sunday the lawn teemed with robins.

It was warm and bright in the sun today out front of the school, waiting with my yearbook charges for their respective rides.

Two months after the old one sparked and died, a new dryer finally arrived this afternoon; though the delivery tore up the muddy lawn, Darcie's already made it through the first three backlogged clothesloads. I think we all look forward to reclaiming the basement from the mountain that was, all this time, our unwearable wardrobes.

Four weeks to vacation, then: a week in sunny Florida, shopping and sand, a change of tempo. From there the days are numbered; a glorious teacher's summer lurks ahead, countably close. Forced and driven we may be, but forward progress is forward progress.

Ah, March. The lion roars, but the lamb in the distance grows ever nearer.

posted by boyhowdy | 6:47 PM | 1 comments

---

Tuesday, March 07, 2006

Blogging Is The Opposite Of Writing

As blogging is the opposite and not the opposite
of writing thinking saying being drinking
doing laundry on Sunday

So is wandering mutually subsumed
by and by the path, the destination,
the wandering self.

To wander is antithesis and apotheosis both
being and not-being, oasis and desert,
direction and crowd, list and liason.

Which is to say

To wander is to listen, sometimes, and nothing more:
to stick the self inside something wholly,
and look around with eyes closed;

To be still.

To be still, and not write.

To be still, and use the stillness
to find that which is not yet still:

Tomorrow ticking away at eyecorners,
the bloodrush between ear and temple,
breath dragging past the glottal stop.

And slow it down.

And move past it, into dawn.


Draft version. All comments welcome.

posted by boyhowdy | 7:52 PM | 1 comments

---

Monday, March 06, 2006

Caveat Lurker

Warning: the previous post contains images which most cultures would find entirely normal, but which cannot be printed at Wal Mart.

You have been warned.

posted by boyhowdy | 10:49 PM | 2 comments

---
Cassia Jade Comes Into Her Own
Now with Baby's First Yoga Pictures!



At ten months the tiny one is both light and bright for her age, a free spirit more physical, more resilient, more genial, more generous than her sister-as-baby.

She's into ceiling fans, talks back to cows (moo!) and birds (moo!), speaks two dozen words and a dozen babysigns, knows every cabinet and stair by feel.

We chase each other around the house, roaring and giggling. We rest our heads on each other's shoulders and engage in a little mutual backpatting. We share a pacifier. We're not alone much, but when we are, we're a riot.

I used to worry that she'd be forever overshadowed by the first -- both by accident of size and subtlety and through brazenly deliberate action. Her sister is strong, centered, demading, encompassing; in my worst eyes I saw the smaller child as wholly unprepared to compete, an inherent victim of the constant firstchild struggle to remain the center of all things.

But she falls, and does not cry. She watches, and her eyes light up with understanding. She teeters unaided on the playroom floor. She leans into the world, as if daring it to take the first step.

Tonight I found her sitting flat on the floor, trying to pull on a pair of her sister's shorts. She had the motions down pat; she just kept missing her leg.

Slowly, like a butterfly emerging, the baby turns into the girl. Cassia Jade careens from fragile to known object towards full personhood.

There's a unique human bean in there, just beginning to show her true colors.

And man, is she beautiful.

I'm thinking there's nothing to worry about. In fact, the baby has already learned two things from her sister:
How to screech with unending joy.


Yoga:
Monkey See.

Monkey Do. posted by boyhowdy | 8:48 PM | 0 comments

---

Saturday, March 04, 2006

Monkey Business
proactive parenting in a mediated world




Monkey see, monkey wonder.


Note: yes, it's a long one today. As incentive, readers who make it to the end will find links to three Jack Johnson mp3s from the Curious George movie.

Yet another first for the elderkid today: her first cinematic experience, popcorn and all. Like her recent foray into the world of solo peestops in public bathrooms, I think we're calling this one a success.

We'd certainly prepared her well enough. Teaching and studying media literacy for so long gets under your skin; though there are times when I wish we could use the TV as a brainsitter, it's not in me to be the kind of parent who just flips the switch and leaves the room.


Though concerns about ads and, more generally, incompatibilities between our values and the subversive subtext of mass media have led to a total absence of television reception in our home, we watch videos with her, sit with her while she plays her fave computer games over at PBS Kids. And, in all cases, she feels ownership, can already locate, play, question and put away.

Our deliberate campaign of cautious media filtering and smallscreen co-parenting has already made of three-year-old Willow an increasingly deliberate, discriminating, and active participant in everything from online games to videos from the local libraries and our vast collection of old Muppet Shows. She understands that narrative tension is inevitably resolved.

So it was no surprise to find her arms around my neck at the first hint of cinematic anxiety today. It'll be okay soon, Daddy, she whispered. And she was right. It was wonderful, like a date with my daughter, and her hand felt cool and sweet on my neck.

But there wasn't much anxiety. The change in scale from small screen to large was hardly as significant or overwhelming as I had feared. The perspective, the expectations, and the literacies already burgeoning inside my headstrong eldest seem to work; she seems sure of self in the screenworld as elsewhere, ready to wander like her family before her.

But I can't take all the credit. Much of today's success came from the choice of movie.

Curious George hasn't gotten the best ratings from adults,
but as a parent, I found it ideal for a first-time cinematic outing. The plot is tight, albeit sketched in sparsely, just enough to cover all the bases and -- more wonderfully -- address with a minimum of fuss all possible ethical questionables which haunt so much of mass market kid programming. George makes a perfect viewer-projected little kid (better than Elmo, anyway) without losing his simian charm.

The focus is on the developing relationships among the characters as George's presence brings confidence and social connection to the world of the Man of the Yellow Hat. And the characters are almost wholly real, thanks to the tonality and voice of the likes of Wil Ferrell, Eugene Levy, Dick van Dyke, and harmless protoloser David Cross (as the misunderstood pseudo-nemesis).


Jack Johnson's soundtrack was wonderful, the perfect compliment and tonesetting guide to the antics of the ever-expressive George and his shy, earnest yellow-hatted companion. His laid-back rhythmic style set a tone for George which kept the audience relaxed and cheery -- no mean feat, with so many of our fellow moviegoers similarly wee and new to the movieplex.

On the way out Willow and I took a chance to get right up against the projected surface, touch and throw our shadows on the screen itself, break the magic just enough to plant that seed of self-keeping, building the layers of mindfulness necessary for healthy mediaplay, so her future moviewatching can remain both magical and evercritical.

Three other father/daughter pairs followed suit. For just a moment it was intimate up there by the bright yellow screen , just three daddys smiling awkwardly at each other over their daughters' heads as the credits rolled over us all like vertical waves. Nice to share daddyhood, there in the dark; it's so seldom done.

The moment we picked up mama and the baby up near the mall entrance Willow ran away, dodging our outstretched hands; we ended up in a game of catch-and-release, red-faced and spectacular, while Willow screamed No! No! I'm having a really good time! I'm having a really good time!" Eventually we calmed her down, lured her in the car with the promise of chinese food and another movie in the near future, and headed off towards home.


Listened to movie titlesong Upside Down all the way home, and now you can, too. Buy Sing-A-Longs and Lullabyes for the film Curious George from Amazon, or click here for this and two other soundtrack tracks, courtesy of Jefito.

posted by boyhowdy | 7:48 PM | 4 comments

---
Breakfast of Upper Middle Class Champions

Welcome to McStarbucks, would you like
a side of lightly herbed gently sauteed
fingerling potatoes with that?


First our local McDonalds started serving real'n'regional coffee. Now Starbucks has started serving breakfast, which is all right with me as long as it doesn't slow up barista production. Because everybody needs a $7 Black-Forest-ham-egg-and-gourmet-cheese-on-an-english-muffin with their $5 venti vanilla latte, but no one wants to wait.

Find the nearest Starbucks using Google Local. Ours is four towns away. I miss my high octane.

In other food news, I read somewhere* today that Coca-Cola is retaliating against health-conscious schools who want the company to remove soda machines from schools by...threatening to remove soda machines from the schools unless the schools own up to the health benefits of Coke products. That'll show 'em.

*somewhere: a link lost to the blogosphere.

posted by boyhowdy | 12:18 PM | 0 comments

---

Friday, March 03, 2006

Elsewhere and Anon.

Finished this week's post on Google Local as a teaching tool over at the Teaching with Technology workblog.

Hoping to finally polish-and-publish that semi-academic blogtreatise on current netthreats -- including the SmartFilter fiasco currently keeping tame-and-informative sites like BoingBoing from schools, businesses, and several entire countries, & the threat of pay-for-fast-lane Internet and email access "splitting the net into first class and steerage" -- this weekend.

Took advantage of a great sleety Friday brainprompt over at the groupblog (What completely innocuous and perfectly allowable phrase drives you up the wall?) to finally come clean about my hatred of therapyspeak.

That said, blogging (and blogtopics) herein may remain sporadic for a short while while I continue to ponder the infoglut that is my increasingly unbloggable life.

In the meanwhile, I've started a second blog purely for that-which-I-dare-not-mention-here, and you can't find it, so nyahh.

That said, after three years, two children, two jobs, and a multitude of homes and crises, I'm closing in fast on my 1500th post here at the recursively-linked Not All Who Wander Are Lost. Suggestions of how (and whether?) to celebrate would be welcome. Other than "quit while you're ahead", which I may be fast approaching on my own.

posted by boyhowdy | 7:53 PM | 0 comments

---

Thursday, March 02, 2006

Hey Mr F...
Tales Of Homeroom

In middle school, some mornings are more intelligent than others. From today:

Kyle: Hey, does R come before P?


Anthony: Hey Mr. F. if I take my little man out...
Me: I'm sorry, but I'm not answering any question that begins with that phrase.


Katy: Mr. F, can you play us some music? But only if it's good music, okay?


Dylan: Mr. F, where should I put my RSS server?
Me: I dunno, Dylan...in a closet?
Dylan: Dude, that's not nice.


Anthony: Hey Mr. F, check this out. I printed out 8 pages on this Himmler guy for Mr. C's class. That guy was totally crazy -- he took, like, a cyanide pill!


Homeroom in a computer lab includes turning on the computers; many students then add their own background or mess around with the screensaver settings. Out of 21 working computers, this morning's scrollingtext goodness includes the following:
- Beware of Safety
- Anthony was here first
- 8th graders such
- MUSTIFY YOUR MIND

And my new all-time favorite student screensaver text:

- hi my name is satin and when you die youll be coming to see me
posted by boyhowdy | 8:07 AM | 2 comments

---

Wednesday, March 01, 2006

Rapid Randomalia

Accidentally left the laptop powercord on my workdesk, so we're going quick-and-random tonight. Apologies in advance for any lack of coherence -- 68 minutes left and counting ain't much, netwise.


Spent much of the day pondering curricular use of Google Local (whole-earth satellite images integrated with detailed maps and whitepages crossreferencing) for this week's entry-to-be on the workblog. Curricular: country and geography study, zoomfunction-as-scale, visual ecostystem surveys, fieldtrip planning (find: museums near Stony Hill Road). Uncurricular but cool: map every Starbucks in a 92 mile radius, zoom in on satellite images to see your rooftop close up.


Thanks to BlogExplosion chatpal Wis"cow"sonite Bozette for cutting me a break on a week's tenancy over at her photoblog. Boz is pretty cool, so it's more than just reciprocity to posthost her right back. Wrap up before you visit, though -- her blogphotos feature frozen breath and snow this time of year.



Now that I'm a renter and a homeowner, maybe I really do need this all-in-one Tonkatruck. My wife thinks so, anyway -- she sent me the eBay link while I was at work, and seems serious about the prospect of us owning a little tiny tractor, cab and all. Check out the stats on the Cub Cadet Lawn and Garden Tractor rebuilt and tricked out for snowblowing, plowing, leafblowing, lawn moving: a twin cylinder 18 horsepower engine, a comfy cab... Sure to tear up the lawn during mudseason, but if the thing can make it up our driveway, it might be worth it regardless.


Followup: Thanks to all who expressed concern, regardless of medium, after yesterday's kid incident. Willow's finger remains hidden from view, but she woke early and in her usual high spirits, so I'm going to assume it's both akay and manageable. Thanks, too, to mom and dad, who in separate calls reminded me that when I was Willow's age, my own pinkie tip was essentially sheared off by a doorslam.

posted by boyhowdy | 9:10 PM | 0 comments

---





About Boyhowdy

Cybersociologist. Father.
Teacher. Poet. Audiophile.

Pondering media, education,
communications, parenting,
culture, community and self
on the web since 2002.


ongoing
All the Concerts I've Ever Attended
a lifetime of music, updated regularly

a year ago Becoming Santa

two years ago Poor Sick Baby

three years ago Road Trip

four years ago
Living In The Past

story of the year
The Ladybug Who Had No Spots

poem(s) of the month
Heat Sonnet
Today, A Sonnet
Warm Winter

rethinking media literacy
>What If He Is Right, Too?
>Spam A Lot
>Uncyclopedia: The Anti-Wiki
>The Bibliography As Medium
>Calendars As Mass Media
>The F Word In The Faculty Lounge
>On Documentary "Truth"
>Writing Media: That Extra Space
>On Teen Suffrage
>I M Fine
>Child As Medium
>Sign Of The Times
>Now That's Media Exposure
>Second Self / Second Self, Updated
>Muppets Go Global
>Missing Molly: On Virtual Absence
>Is PowerPoint The Devil?
>A Curricular Epiphany
>Rethinking Media Literacy: A Rant
>It's Pronounced peeps

blog as medium
>Bleached Blanket Blogosphere
>Blog, In A Nutshell
>Oblogatory
>Making Public The Lost Segue
>Grasping At Blogs
>A Definitive Definition
>Romancing The Blog
>The Dichotomies List
>You Know You're A Blogger When...
>Everyone Loves A Blog
>Deep Thoughts, Shallow Paragraphs



or Atom Feed


coming soon

12/31 New Year's Eve in Northfield
1/1 Last "Hangover Special" Breakfast for the Siblings in Newfane, VT

1/14 You Say It's Your Birthday (34 Isn't That Old, Is It?)

2/16 - 2/24 Bermuda!


now listening
tinyblog
aka remaindered linkstinyblog archive

boyhowdy's tinyblog is
powered by del.icio.us
+ javascripted by Alan Levine
archives

2002
november: 17 24
december: 01 08 15 22 29

2003
january: 05 12 19 26
february: 02 09 16 23
march: 02 09 16 23 30
april: 06 13 20 27
may: 04 11 18 25
june: 01 08 15 22 29
july: 06 13 20 27
august: 03 10 17 24 31
september: 07 14 21 28
october: 05 12 19 26
november: 02 09 16 23 30
december: 07 14 21 28

2004
january: 04 11 18 25
february: 01 08 15 22 29
march: 07 14 21 28
april: 04 11 18 25
may: 02 09 16 23 30
june: 06 13 20 27
july: 04 11 18 25
august: 01 08 15 22 29
september: 05 12 19 26
october: 03 10 17 24 31
november: 07 14 21 28
december: 05 12 19 26

2005
january: 02 09 16 23 30
february: 06 13 20 27
march: 06 13 20 27
april: 03 10 17 24
may: 01 08 15 22 29
june: 05 12 19 26
july: 03 10 17 24 31
august: 07 14 21 28
september: 04 11 18 25
october: 02 09 16 23 30
november: 06 13 20 27
december: 04 11 18 25

2006
january: 01 08 15 22 29
february: 05 12 19 26
march: 05 12 19 26
april: 02 09 16 23 30
may: 07 14 21 28
june: 04 11 18 25
july: 02 09 16 23 30
august: 06 13 20 27
september: 03 10 17 24 october: 01 08 15 22 29
november: 05 12 19 26
december: 03 10 17 24 03

2007
january: current


about

oldwork
Northfield Mount Hermon School
>MED/SOC 221: Media Literacy
>HIS 321: Modern American Culture
>MED 05: Mass Media Messages
>MED 06: Ed Tech 101
>MED 08: Advanced Web Design

school
Marlboro College
>BA, Cyberstudies
>MAT, Teaching w/ Technology

play
Watermelon Pickle Poems (broken)
Rethinking Media Literacy
Reading The Future

see me / contact me / give me stuff

guestmap / hitcounter


links

loci
City Year
Boston Museum of Science
Falcon Ridge Folk Festival
The Iron Horse

highbrow
Kairos
Utne
McSweeney's
Daily Jigsaw Puzzle

nobrow
Fark
Boing Boing
American Feed
Customers Suck
The Onion / A.V. Club


blogs
+abraxas
+alex halavais
+alterego
+amish tech support
+amitai etzioni
+blogatron
+brokentype
+bumptious
+burnt toast
+dave barry
+don't link to us
+everyone shut up...
+fnord: essence of being
+i want to hug kafka
+life - listed chronologically
+liloia.com
+media yenta
+mrs_fezziwig
+next-to-last song
+parenting isn't pretty
+the shifted librarian
+there are no more tickets...
+tvtattle
+universal rule
+webraw
+zack, a livejournal


<< ? new england blogs # >>
<< ? edublog # >>
<< ? blogging mommies # >>
<< ? verbosity # >>
<< ? jewish bloggers # >>


-Anthroblog social anthropologist's blog on blogging
-Anti-Bloggies.com yearly blog awards with real prizes
-The Blog A Day Tour Lawrence posts in other people's blogs
-The Blogproject student research on blogs, cyberidentity, and hypertexts
-Blogger Unofficial FAQ blog fix blog problems
-Recently Changed Weblogs recently changed weblogs


=blogger bloghosting
=bravenet guestmap
=reinvigorate counter, hit-tracker
=enetation comments
=online bonsai icons tree




--> blogroll me


quotes

I hate quotations. Tell me what you know.
- Ralph Waldo Emerson


And you know, when you study the semiotics of Through the Looking Glass or watch every episode of Star Trek, you've got to make it pay off, so you throw a lot of study references into whatever you do later in life.
- Matt Groening


She wrote secret web pages with gentle empty spaces where the universe could creep in and rest when it got overwhelmed.
- Robin Williams


Cable news networks...often act as if the best way to present information is to serve the viewer two opposing advocates battling it out. But in many instances, this ends up confusing rather than illuminating. Not every fact is debatable, not every opinion equal -- or worth equal time.
- David Corn


Any sufficiently advanced technology is indistinguishable from magic.
- Arthur C. Clarke


This "telephone" has too many shortcomings to be seriously considered as a means of communication. The device is inherently of no use to us.
- Western Union internal memo, 1876


The wireless music box has no imaginable commercial value. Who would pay for a message sent to nobody in particular?
- David Sarnoff's associates, in response to his urging for investment in radio, 1920s


Computers in the future may weigh no more than 1.5 tons.
- Popular Mechanics, 1949


There is no reason anyone would want a computer in their home.
- Ken Olson, President and founder of Digital, 1977



Subject: HIGH TECHNIQUE ELECTRICAL HOME APPLIANCES---COMPUTERIZE GAS KITCHEN
Date: Mon, 7 Jan 2002 08:53:27 +0000 (UTC)
From: "MRS WANG"
Organization: FUJIAN HUALI TECHNOLOGY CREATING CO,LTD

Do you like to comprehend a computer housemaid ? Do you like to own a blue soldier ? Today , SHIELD gives you the answer .

SHIELD is a computerize gas kitchen which is controlled automatically and intelligently. It is a world wide invention , is a new generation of the gas kitchen..

What is the benefits that SHIELD brings to us ? Firstly , it will relieve you out of the kitchen ,you shouldn't be in when you cook the food .Second ,it solved the problem that the food would be burned ,the soup be out and the gas be leaked .And it will make your family safer and healthier.

Do you want to understand much more merits about SHIELD? Please see the followings:

1. amounts and the kinds of food (boiling water, porridge, rice , soup ,fish ,meat ,medicine), SHIELD will regulate the temperature and time to cook automatically ,and the soap won't be out ,the food won't be burned .It will turn off the electric and gas source by itself ,and tell you by springing out the music .

2. when needing and you can set five times to light fire .

3. ,it will send out a big fire ,and when the temperature reached 100 ,it would change the flame .If the temperature is below 100 ,it will turn to be a big fire ,and keep the flame blue .The containing of CO is less than 0.04% of total .(standard :less than 0.05%) . And then it reduced the pollute .

4. B"CAutomatically limit the time of offering gas :It is 30 minutes that offering the gas. When cooking ,it won't be out whenever it is blew or watered .Because when the fire is out , it will light automatically. When the gas leaked ,the density reached up a level or the temperature of the platform is over 80 ,SHIELD will warn you and turn off the electric and gas source .

5. need ,it can set the temperature and heat the food by itself .

6. according to the container .

7. 70.51%(standard :higher than 55%).Comparing to the common gas kitchen ,it can save more than 40%source of total .

8. natural gas and marsh gas to cook , also can use many kinds of pans, such as iron pan ,aluminum pan and high pressured pan. SHIELD computerize gas kitchen is a housemaid , is a soldier .Is there anything more important than the safety and health of your family ?

Let us share more happy in our lives .Not to bore for the burned food, not to be sad for no time for cooking .For you love your family ,please begin with SHIELD .Possessing SHIELD is possessing love .

-Spam E-mail for a Home Appliance "published" at We Made Out In A Tree And This Old Guy Sat And Watched Us, submitted by Jeremy Sacco